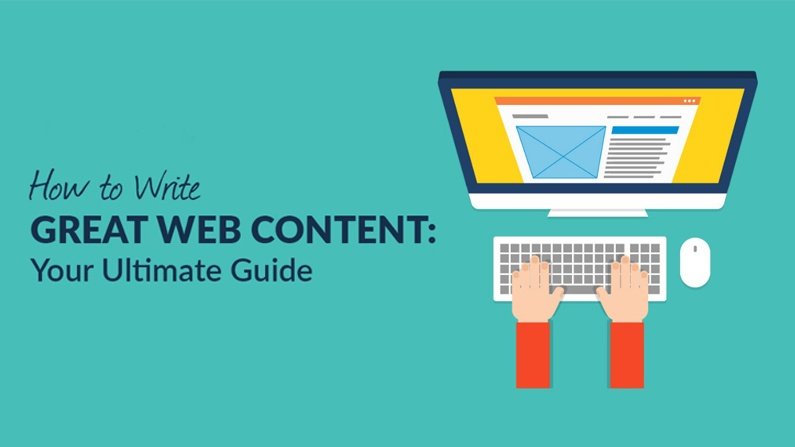 What is content writing?
Content writing is a kind of writing that you can read online and offline. These are 
Blog posts ( web content or SEO content )
Magazine – article
Event content ( information about an upcoming event )
Technical tutorial ( using the real data analytics for big data), etc.
Content writing is a skill of framing of words in such a way that emphasizes visitors to read your content. It's a combination of relevant data with innovative ideas to make that data interesting and relatable. 
Usually, the quality of content is dependent on clients what they want. It isn't an easy task, sometimes you need to erase the content and fit it in the way, a client wants. Content should be effective and understandable for everyone. You have to cover all the points related to the topic. 
It also depends upon the type of content on which you have to work. If you are writing an article it must be point to point. In the blog post, you need to cover all the points related to the topic that should be understandable.Basically, in content writing, you need to collect all the data, select the key points, add your creativity and write it uniquely.
WHO IS CONTENT WRITER?
Content writers create content for the web. They write content for many different sorts of a website including event content, blog content, e-commerce sites, and college websites.
This content can include e-books, podcasts, text for graphics, and sales copy. HTML, CSS JavaScript, and content management systems such as various web formatting tools used by the content writers. 
Content writers might responsible for making sure that the content connects with the site's pages and also for setting the overall tone of the site. Content writers manage these tasks by researching and deciding what to include and exclude from the site.
WHY A QUALITY CONTENT IS IMPORTANT?
Good quality of content plays an important role in Marketing Strategy. Content is as important as the creativity and design of your website. Content helps in drives search engine results, boost traffic on your page, and build your organization as a leading organization in the industry.  
According to the Content Marketing Institute (CMI), 92.75% of B2B organizations depend on content marketing for branding and demand generation.
And today's marketing requires quality as well as quantity of content both determine your ability to leverage content for your business results.
HOW TO WRITE CONTENT?
Well, there is no secret formula for writing good quality content. These are some essentials that help to improve the quality and quantity of your content and make it effective:
TIPS FOR EFFECTIVE CONTENT WRITING 
WRITE A HEAD-TURNING HEADLINE
Headline decides that the viewer will read your content or not. If the headline doesn't interesting, stir an emotion, make the reader want to read more about your topic then you won't achieve desired results with your content. Effective Headline is a proven technique for maximum traffic.
CREATE A HOOK THAT LOCKS THEIR ATTENTION 
You have just a few seconds to keep readers hooked after the headline. The first sentence also helps in determining whether they read the rest of all your content. As a result, it will stick the reader's attention and smoothly lead them into your first points.
You must have considerable knowledge about what you are writing about, especially in the B2B market. You can include statistics, data, graphs, and metrics to establish the reliability and support your claim.
You should analyze at least one key message you'd like to convey before you create your content. Keep this and put while writing your content or tie your content back to the main point as much as possible.
The content you publish has the sound of your company and it should be unique to your company's personality. It's important to adjust the tone of your writing to your target audience, business goals, and brand persona.
Some of the best digital content consists of short paragraphs, short sentences, and the bulleted list. Digital content should also be enhanced for search using SEO best practices and the latest SEO content strategies.
After creating your content, consider how you might polish the rough edges of your writing. Sometimes writing improves as it goes through a round or two of edits.
SOME STEPS FOR BEGINNERS
Content writers must master different writing styles.
Successful content writers don't pick random subjects.
Successful content writers are original.
Content writers know SEO, HTML, CSS, and WordPress.
Successful content writers are social media specialists.
DIFFERENCE B/W NORMAL CONTENT AND SEO CONTENT
NORMAL CONTENT 
A normal content writer writes informative content. They do various research on topics  and provide original content. They mainly focus on quality content and ensure that content is error-free and professional which can be a competent and effective copywriter.
SEO CONTENT
An SEO content writer writes content for better search engine ranking mainly focuses on conversion at the same time. They consequently focus on quality and relevance which will help you to reduce your bounce rate. They use  keywords to make their content more attractive and additionally do whatever a normal content writer does. 
SEO is all about high rank on the search engine's search results. The high SEO ranking is important so that people can easily find your content when they find similar topics. An SEO content writer focuses on search engine traffic and gets ranked high. Before starting writing any topic SEO content writer has to search for KEYWORDS that would gather more traffic. SEO content writer uses those keywords in content intelligently to get high rank on the GOOGLE ranking page.
On the other hand, the normal content writer is free from such demands. Where SEO writers are so selective, normal content writers are free from those restrictions. They can pick any random topic without any particular keywords and write whatever is suitable.